Hi Ron,
I'm on board the expedition ship Mermaid Sapphire near Ulithi Atoll, approximately 200km south west of Challenger Deep in the Mariana Trench. I'm D'Ping the 3D IMAX and National Geographic films covering James Cameron's Deep Sea Challenge Expedition to dive the ocean's deepest point.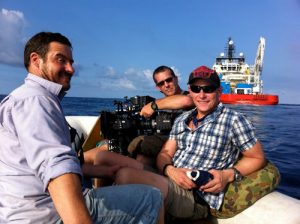 After 7 years in the planning, the expedition steamed out of Sydney in early February and headed to Rabaul on the island of East New Britain in Papua New Guinea. It was here that the first deep water test dives were done with the one man submersible named Deep Sea Challenger.
After a series of Dives in PNG and excursions to view the Baining Fire Dance and check out the ash covered remains of old Rabaul, the expedition steamed to Guam and then from Guam to Challenger deep in the Mariana trench.
Purpose-built to withstand the immense pressure of 36,000ft, the Kawasaki racing green submersible is a high tech piece of machinery that requires a large team of engineers, systems analysts, communications experts and life support crew to prepare it for each dive and to ensure the pilot is brought back to the surface alive and kicking.
The most dangerous aspect of each dive is not the journey to the depths of the ocean, but the launch and recovery to and from the ship. In high seas the submersible, which hangs from a 23 tonne knuckle boom crane when launched, can turn in to a 9 tonne wrecking ball swinging across the deck. In recovery mode, hooking the submersible as it heaves and pitches in the ocean is a highly dangerous time for the boat and diving crew.
On the 26th of March, following several weeks of test dives to 1000m, 7,500m and 8,000, Jim Cameron became only the 3rd person in history to reach full ocean depth and make it to the bottom of Challenger Deep. He is the first person to do it solo.
The camera systems we are using consist of: a Red Epic Cameron/Pace 3D Rig; 2 Sony P1 Cameron/Pace 3D rigs; a Red Epic Cameron/Pace 3D underwater Rig; a Sony TD300 side by side rig and 3D Go Pros. On the Deep Sea Challenger we have several custom made 3D side by side rigs designed and built to withstand full ocean depth. We also have 2D Alexas, Epics and Canon 5D MK2s.
Our crew consists of your truly as DP, Chris McHattie (Operator), Jay Hanrahan (Operator), John Turner (HD Engineer), Manning Tillman (1st AC/3D Tech), Simon Christidis (Underwater Cinematographer), Richard Kickbush (Underwater AC), Sam Winzar (Data Wrangler) Aron Walker (Grip/Gaffer), Matt Green (Sound) and Gwillym Hewetson (1st Assist Editor). I've worked with some of these guys before on features and commercials, including Sanctum.
It's a ball tearer of a job working in mid-30 degree temps and extreme humidity whilst operating heavy 3D rigs on a pitching ship deck. It's not uncommon for us to pull 18 hour days, especially on a launch day. Each and every one of my crew have done an outstanding job.
You can read about the camera crew on the Deep Sea Challenge website blog at: http://deepseachallenge.com/expedition-journal/creating-the-expedition-memory
Cheers,
Jules